Instagram
:
ARCHI_OLOGIE
I found this account and can't stop looking at all the homes. It's beautiful because there are so many lovely old homes with interesting architecture and paint colors in so many places [#savethehomes!] ...it's tragic because I'm home shopping and this account is just adding to everything I want in a home to own.
Indianapolis, I need one pretty house at a great price with a new roof and decent plumbing and electrical. I can paint for days. PleaseandThankYou.
Listening
:
James Bay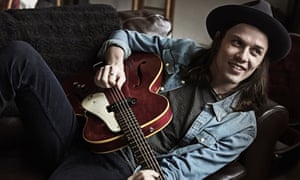 GAAAAAAAH. I saw this crazy guy in a hat with stringy long hair hanging in his face on the Grammys and mostly thought, "who is that?" In all fairness, I thought that about 75% of the people on the Grammys. My Perez Hilton reading and E! watching days are behind me.
Here's a song you may have heard.
This album though, it's
so good
. I mean, it's
BOLD italics
good, y'all. I can't stop. Go find it and have a listen.
Can't wait to see
:
Waitress the Musical
[OK, I can't stop listening to this one either.]
As an avid Sara Bareilles fan when
the album
came out it filled every singer-songwriter-musical-theatre-loving inch of my vast heart. I mean, I don't have a whole lot to relate to in this story of this waitress who bakes pies, is married to an abusive man, gets pregnant, and has an affair with her gynecologist. So close to my life, right? That said: I feel like this music is speaking to my soul.
Also, I want to sing the
Bad Idea
duet someday. #goalz
Freebies
:
Design Love Fest Wallpaper downloads
FLORALS FOR LIFE.
Watching
:
Meet the Patels
This was a lovely documentary. It's like a front row seat to the cringy world of dating with your family orchestrating a lot of it. And when I say "cringy" it's awkward, but delightful and you really see the relationships between Ravi and his sister and his parents and how much they love each other. I mean, my mom is all, "Are you going on dates? Have you met anyone? How are you trying to meet people?" and my dad contributes with a "GIMME SOME MORE GRANDBABIES." but my parentals have nothing on the
Indian biodata
network.
Baking
:
Peanut Butter Cookies
I'm making Deb's recipe tonight, but I'm adding a dose of white chocolate chips in with the semi-sweet and peanut butter chips because you can never have too many chips, right? In all honesty, I don't really like peanut butter cookies, but I'm hoping these help me change my mind.